Derado's Famous & Delicious Food
Whether it's a family gathering, memorable birthday, work celebration or simply a great meal – we make sure you always have the best fresh food experience for every occasion. Take Out Service available too!
Discover our casual, friendly restaurant and summer patio located in beautiful Tatamagouche, Nova Scotia – on the North Shore of Nova Scotia.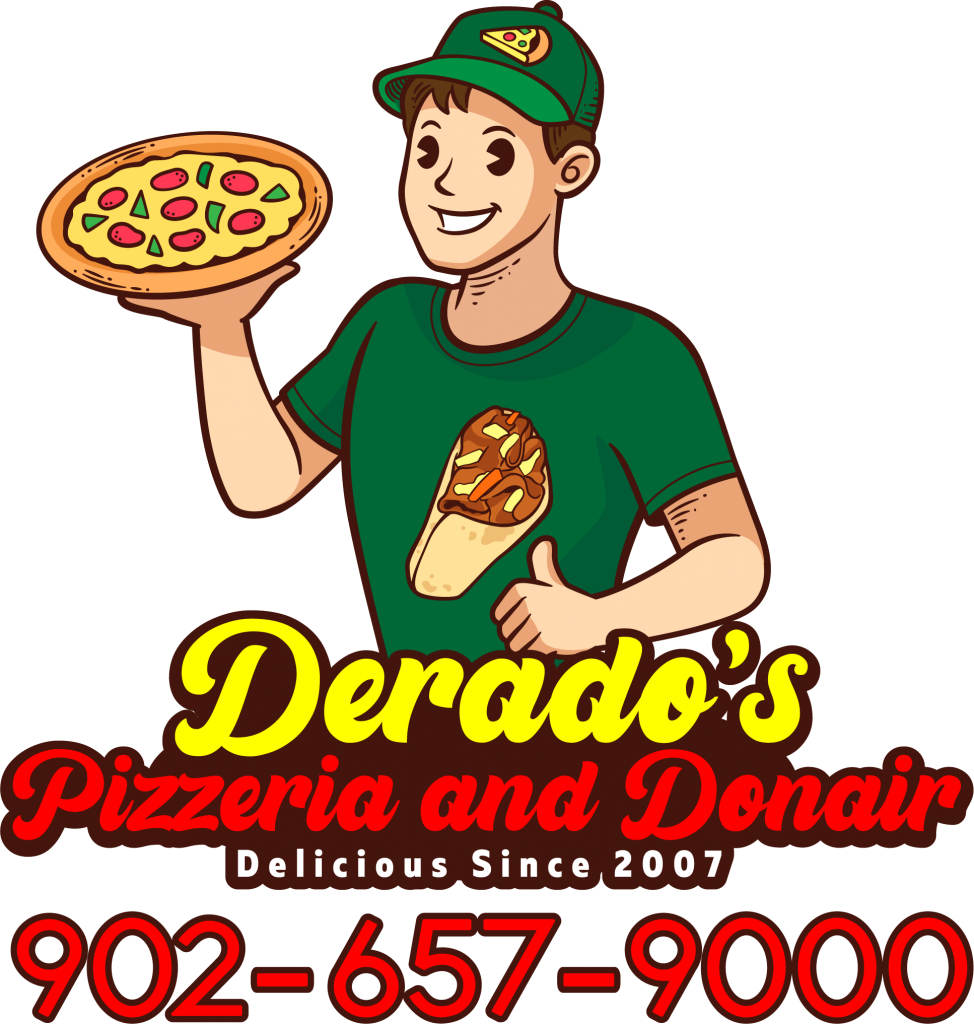 Pizza Lover? Check Out Our NEW Merch
Where to Eat in Tatamagouche
"…Ready right on time, piping hot and absolutely delicious, especially the garlic fingers! Highly recommend if you're in the area  – cottage folks in Brule, Malagash etc."…Facebook Reviewer 
"Awesome donair pizza! This crust is just perfect. The meat is good and the sauce has some hint of spice mixed in it but it is really good. Awesome hidden gem
here! The whole thing was excellent."…Google Reviewer
"Love to enjoy their yummy pizza and a beer on the patio in the summer. They make the best donairs in Nova Scotia! We grab them for take out every time we go to Tatamagouche."…TripAdvisor Reviewer
Fresh, Flavourful and Crispy Pizzas
Our Pizzas are Legendary! At Derado's everything is specially prepared in our kitchen with the finest possible ingredients. Our homemade dough is made fresh every day, topped with our signature home-spiced pizza sauce, the highest quality mozzarella cheese, freshly cut veggies and top quality meats slowly baked in our stone ovens to enjoy the best golden crunchy texture! Our loyal customers spread the word….
Derado's Pizza is the "Best Pizza Around".
Dairy-Free Vegan Cheese Available
Meaty, Spicy, Saucy Donairs and Chicken Shawarma
Our traditional Nova Scotia donairs are epic. Made with perfectly spiced rotisserie meat, topped with fresh tomatoes, onions, and our Derado's original signature sweet donair sauce – all served on soft, fresh pita bread.
Derado's Donairs and Chicken Shawarma are a "mouthwatering experience guaranteed to stimulate your taste buds".
Wings, Poutine, Fries & Sides
Feel the urge for some delicious, juicy chicken wings? We dare you to try our extreme heat level hot sauce! Or maybe our famous Canadian poutine topped with mozzarella and our signature spiced gravy is your big time favorite. Fries, onion rings, mozza sticks –  make sure to add some delicious sides to complete your meal!
Medium, Hot, & Honey Garlic Chicken Wings
Three tasty sauces to choose from. Medium, Hot, and Honey Garlic.
Poutine, Fries, Mozza Sticks, & Onion Rings
Try our signature oven baked subs –  hot and crunchy! Made to order with quality meats and fresh vegetables. Our subs make a great lunch, or a healthy meal anytime.
Tasty and Filling too!
Choose Your Favourite – Donair | Pizza | Veggie | Chicken | Smoked Meat | Hawaiian | Assorted Meat
Derado's licensed bar offers beer, wine, cider, and coolers.  Along with our domestic and imported selections we feature everyone's favorite local drinks including Tatamagouche Brewery Beer, Jost Wine, and  Vista Bella Malagash Cider.
Enjoy some cold and refreshing drinks to make your meal perfect!
Add something sweet to your order…
Made with a crisp and flaky Cannoli shell enclosing a lusciously creamy, nearly irresistible, sweet ricotta filling mixed with orange zest and a punch of white rum, which is dotted with decadent pistachio and a drizzle of icing sugar! In other words, pure dessert bliss!
1 piece…………..3.99+tax 
Summer times are the best of times on our colorful patio. Enjoy our delicious food and drinks outside this summer! We are licensed and have a great selection of local and brand name refreshments.
We are located in Tatamagouche, one of the most beautiful and historic places on the North Shore of Nova Scotia. Tourists visit us from all over the world to enjoy our friendly people, coastal scenery, and casual atmosphere.